A few weeks ago, Lachlan Morton set a new Camí de Cavalls 360º Non-Stop MTB fastest known time (FKT). The EF Education First's Australian cyclist completed the Menorca's 185 km loop in 10 hours and 12 minutes. This is the interview of the day after.
Which was your goal when you decided to come over here to do this challenge? And which was your mindset?
Honestly, my original goal coming here was just to see the island. I spent time on Mallorca when I first was a professional years ago and everybody there said "oh, if you like it here, you should go to Menorca". Since then I just stored that away in my head, and I was like "one day I'll go".
Then the opportunity came up to come here. I didn't know about the trail and then I started to research the trail and then I saw it had a history with riding and running, and then looking at the particularities of the trail I was… "ok, this looks really interesting and like a proper challenge". So my goal when coming was to basically discover the island and then see what the trail was about.
From a competitive standpoint, it was mainly about seeing what I could do on the trail. I'm much more experienced in mountain bike than I was a few years ago, but I don't come from mountain biking. So it's nice to come somewhere and get on a proper mountain bike trail and be able to test myself against very stablished mountain bikers.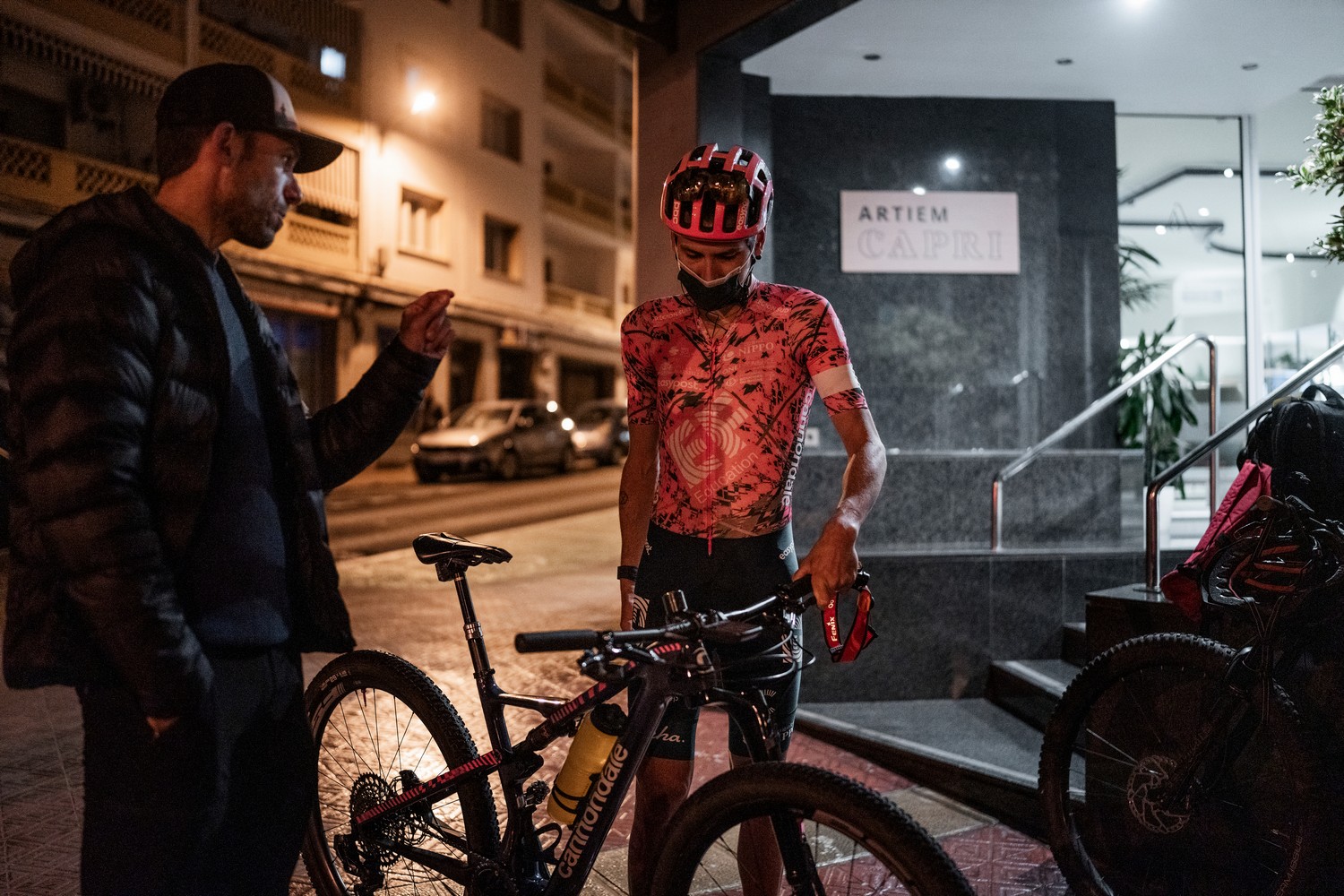 Did you think it was possible to reduce the time set by Ismael Ventura?
I didn't think I would go faster. For what I've seen of the trail in the few days before, it's very particular and there are very specific demands. I tried not to think about the time when I set out. I just tried to go as fast as I can go in a way that I'm enjoying what I'm doing and not stressed about an outcome, and then just see what I get.
I was lucky that my body showed up on the day. I felt really good physically and was able to push hard. Because sometimes it doesn't happen and you fight yourself all the time. In hindsight, I didn't prepare specifically, but the last month of training, now that I know how the route is, was perfect. Everything happened by accident, but I wouldn't have changed much now.
And I think that my mindset helped. I think it's a trail that the more you try to force your way through, the slower it becomes, because you make little mistakes and get frustrated, and the frustration turns into another mistake… You basically have to be really focused on what you are doing, but relaxed on the bike and try to constantly be moving over the rocks and working with the terrain as much as you can. Because it's constantly trying to slow you down. It feels like the trail is grabbing at you trying to slow you down. And if you can work with it the best you can, I think that progression is easier.
Even though I wasn't hell-bent on setting the record, I think that everything worked out in a way that allowed me to go fast. It was a nice outcome, but ultimately I know for sure that someone's going to come and beat that record. There's people who are stronger… There's people who are better than me on every element the trail requires. And also I left time out there in a number of spots, so for sure it's going to get beaten. As with any record, it's going to get beaten. So I'm not too attached to the fact that I got the record, because once that's gone I'm sure I'm going to have a really nice memory of the day. It's nice to go about it in a way that it's more than this record now.
I don't believe I ever liked owning a record. A record just kind of progresses the standings. Basically once people realize you can go in ten hours, then you will see someone could go below ten hours quickly. It's nice to be part of that and it was nice to have a day that was more than just setting a record.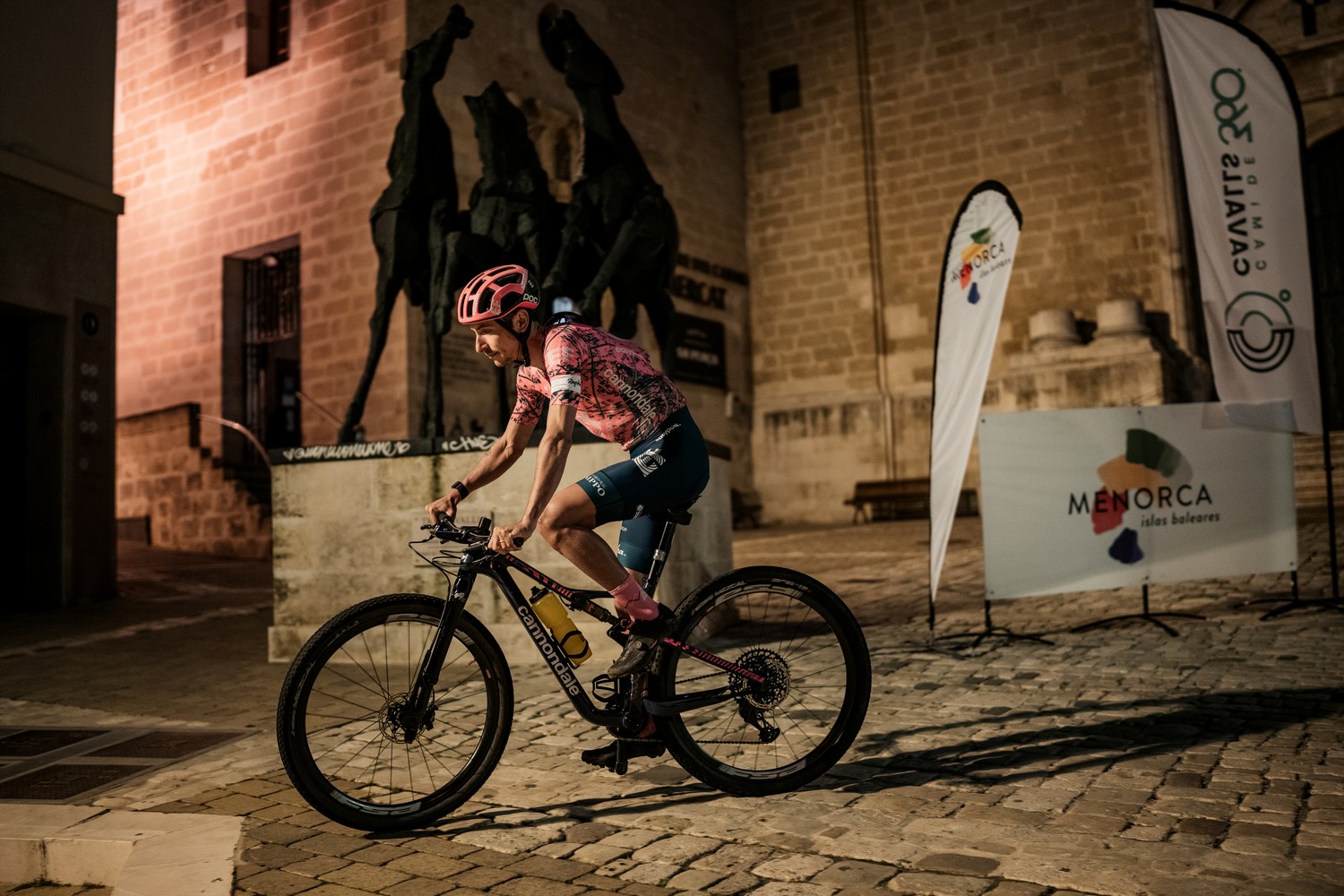 I like your way of describing how to manage a trail that tries to stop you, "not to force it", that's really the right mindset…
I've learned from the experiences I've built in some other ultra races that it's very easy to get frustrated, and I've learnt that any negative feelings you have… it only slows you down. There are literally thousands of places to get frustrated on that loop. So many spots where you can get caught up on and make a small mistake. I think you can ride it a hundred times and as you would still never have have the right lines, because you constantly try to pick a line; or you're never going to get all the gates perfectly and it can be annoying when you turn the wrong way for five seconds and then realize and you have to come back… because this is going to happen, it's inevitable. So you have to basically keep focusing on moving forward.
Which were your feelings when you got to Ciutadella after completing the first half on the north?
I think that the first half is deceptive… The first two hours were probably the easiest section of the trail, so it kind of ropes you into this false sense of security. And then you go through Mordor and the rocks and it is like it brings you right back to reality. It's brutal through that section.
And then once I got to Ciutadella it was like more or less half way, but I also knew that's when things get interesting normally. When you get past five hours, that's when it turns into something more like a normal bike ride. That's when mentally you have to be more on your game because little things can deraille you more quickly.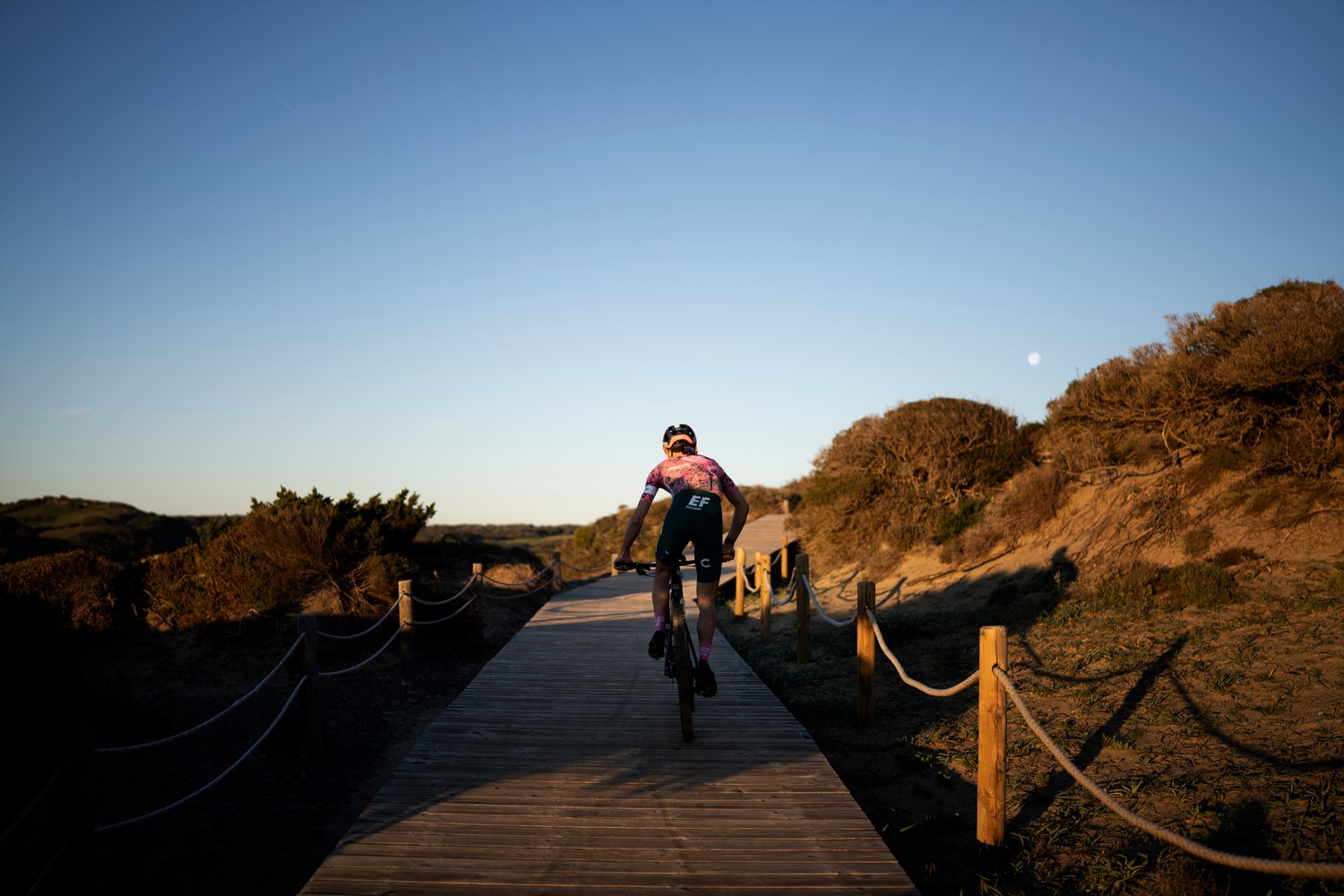 In terms of pacing, in a long event like this, I think people try to do it very linear, whereas my belief is always "if you feel good, push hard", because you're going to feel bad at some point and it's going to be slow… And if you don't push when you feel good, you're going to feel bad anyway, and you've missed out on all the chances to be fast. That's probably not correct, but that's the way I go about it. So I was still trying to push because I was feeling good.
It's hard to get your head around this trail as a whole, when each moment requires so much attention. It's nice in a way that you can't get ahead of yourself. It's the second you start to think "it's only forty km" you have one section that's really difficult and you're like "uh, forty km it's a long way!". Especially because I didn't know what every little section was going to be; it could still be really slow. I never let myself get too far ahead of myself.
So being linear wasn't a strategy, it was luck…
It was luck, yeah! People are always asking for advice on this kind of stuff, and I always feel bad giving it because basically I just do the opposite! [Laughs]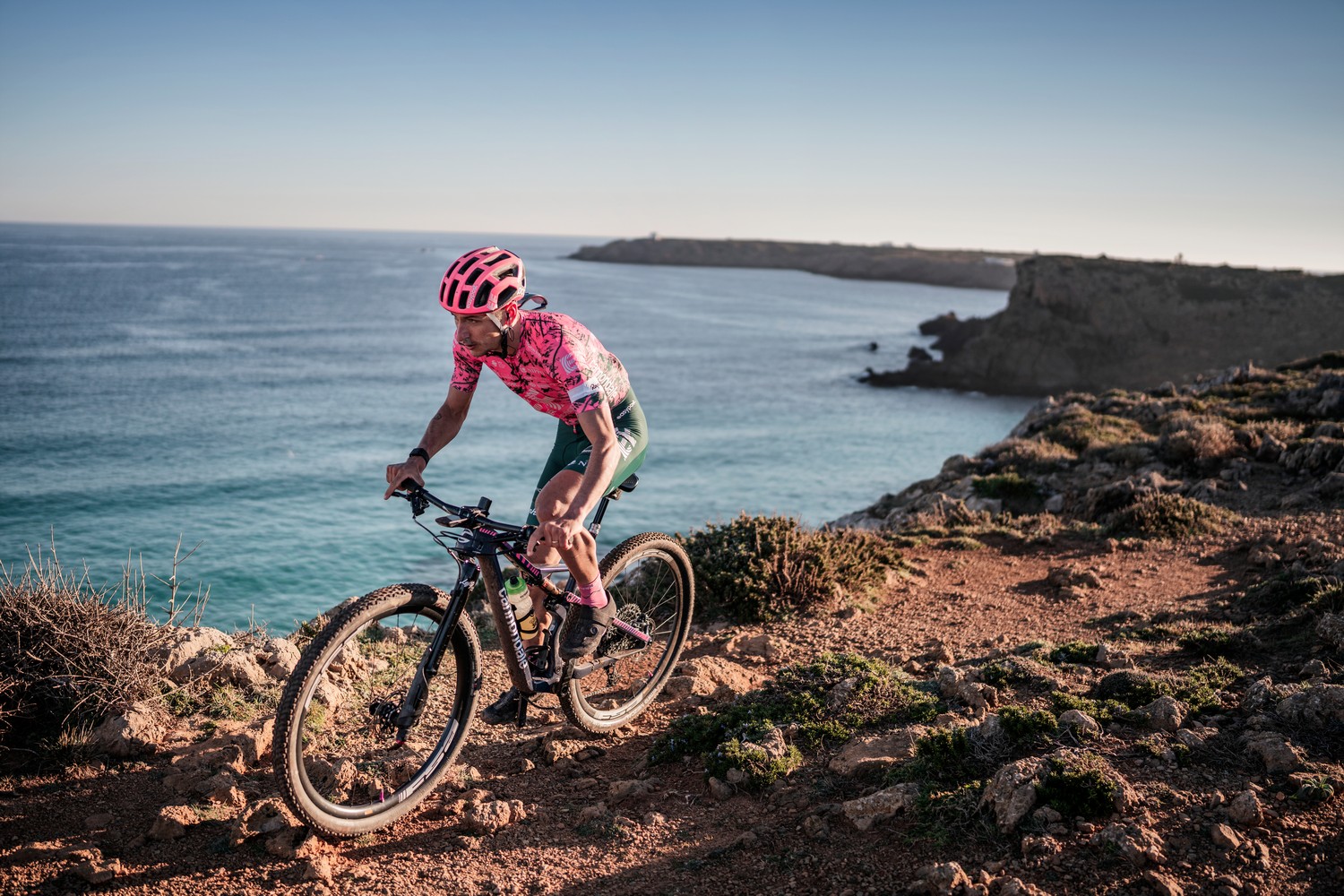 Which advice would you give to a person who is not trying to beat the fastest time, but a person for which the simple fact of doing it is a once in a lifetime challenge?
I would say it's a significant undertaking. It's not like an easy sightseeing tour. It's a proper challenge. It would say the trail isn't always fun, but it's always rewarding. The tough sections are tough, and you'll be thinking "what am I doing?"… But when you've passed it you are like "ok, that was absolutely worth it because now I'm in this pristine beach".
My advice would be to be mentally prepared for difficulties, but the payoff it's absolutely worth it.
You've talked a bit about the northern half… How would you describe the south, opposite to the north?
The trail is unique and you get quite a variation in landscapes and terrain despite the fact that the island is small. It feels strange to have so many what it feels like microclimates that you travel through. I would say the north is savage, it's rocky, exposed… And it's really harsh. And as you come back for the south, the trails are a bit more with moisture, there are forest sections that are quite green… And not flowy, but it feels like flow trails after you've been on the rocks for 20 km [laughs]. And a bit flatter and faster moving.
I would love to ride every part of the trail again, but not in one time [laughs]… Doing it in separate days. It's worthwhile, it would be nice to go and ride some sections in different sessions, because it's quite fun.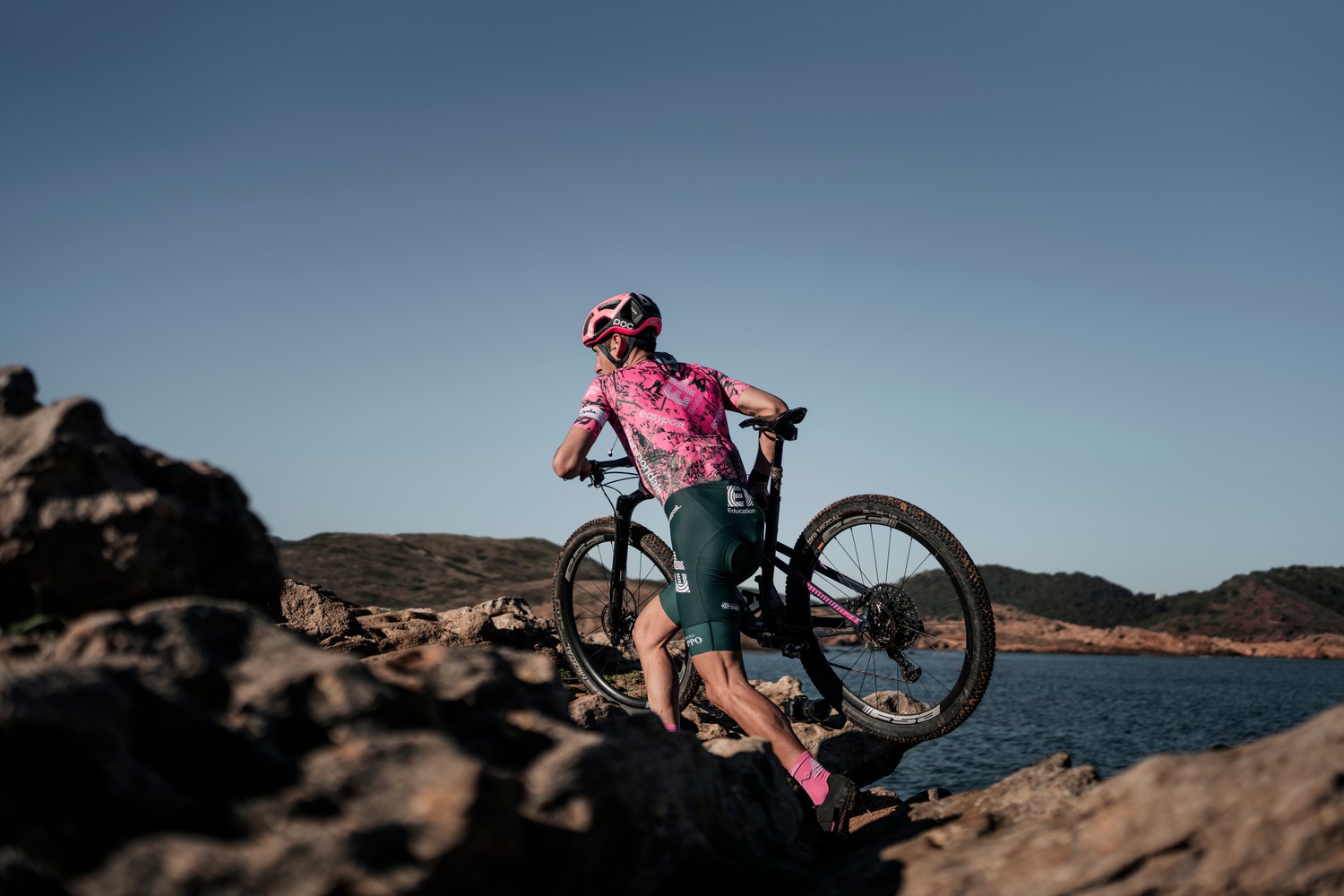 In this regard, what do you think about the project Camí de Cavalls 360º related to Menorca and the trail?
I think it's a really cool project. I think it's a really cool trail that deserves recognition. And you can already see people in the endurance community, where there's people running or mountain biking, who are looking at the trail and saying "this is a unique and big challenge". So I think it's a good place for endurance athletes to come and test themselves. And it's an amazing spot that maybe otherwise you wouldn't have a need to come to.
For me the trail was the excuse because I wanted to come here. But I think that regardless how beautiful it is here in Menorca, the trail itself just standing alone is worth coming to do. And I think it's cool it has become established as a time route, and also an amazing touring route to do over a few days.
I think it's great! Because there's other trails I've done like… I was comparing it to Kokopelli. Kokopelli is pretty well known in America, it's like an established trail and a lot of mountain bikers want to go into Kokopelli, but this is more difficult, I would say. It's a tougher day out to try and get around this thing in a day. Which I don't think a lot of people would expect.
You said that there's others who are stronger and better than you in all the things that the trail requires… Who are you thinking of?
Next up, Guillem Cassú is going to come and do it and he is going to be fast. He has abilities to get around this quickly if his mind is right about it. But you know, if someone like Tom Pidcock came and took this on as a challenge, if he decided that this is something he would come and do, it would be amazing. You would see something really incredible. There's people out there who can definitely do it faster.
Coming back to the reason for doing it, I'm never trying to prove that I'm better than everyone because I'm not under the illusion that I am. There is always someone better. But my hope is that it could bring a project like this a bit further. I think there are a number of people who could do it. It's just a matter of them committing themselves, which is a different story.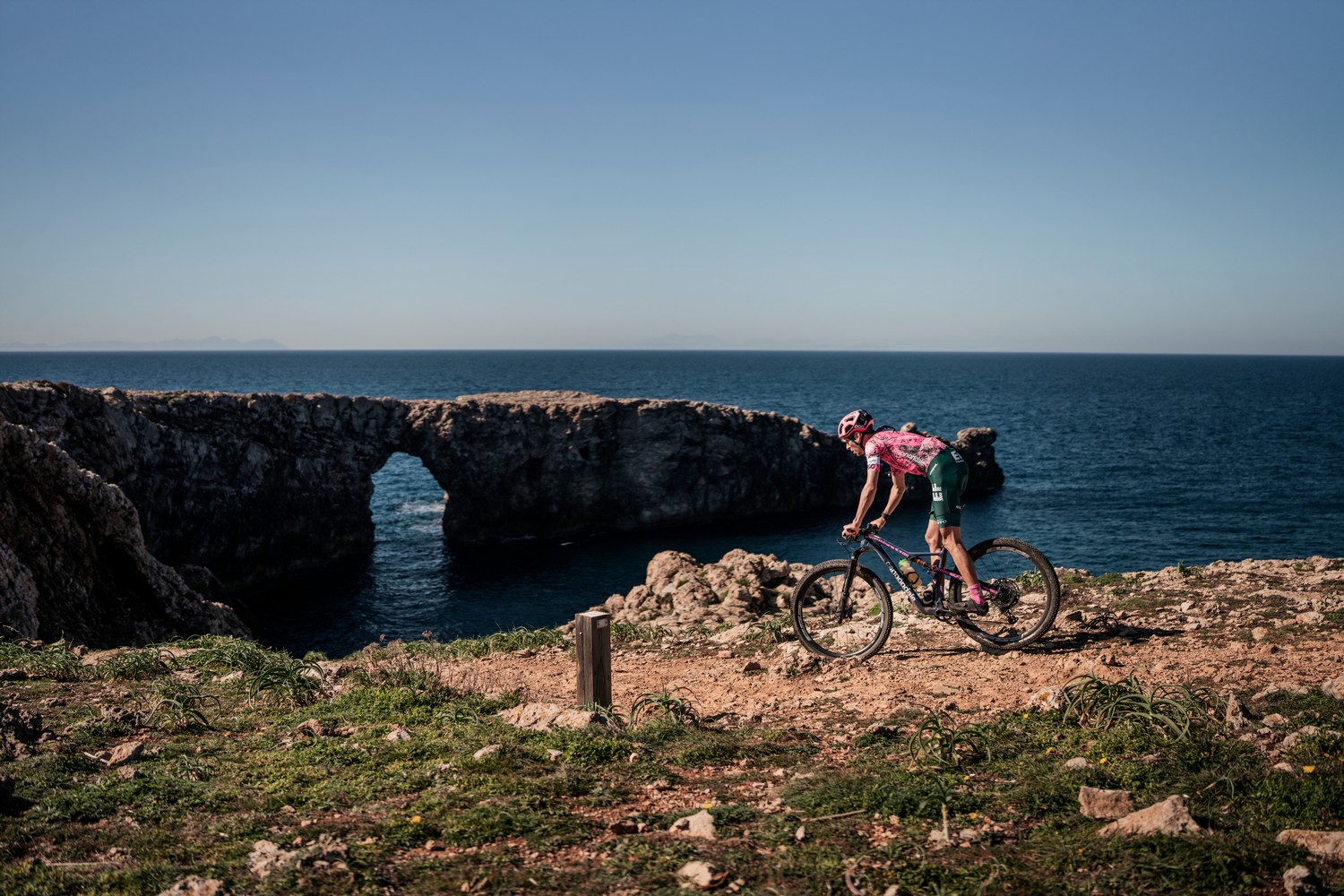 How was your experience when crossing the finish line after completing all the loop?
It's nice. To finish is always special, because it's the conclusion of the experience, but increasingly I've realized that in the most successful adventures or challenges that I've done all the reward is in the doing. So anything I've done that I'm focused on the finish line so then I can celebrate, I always have a really lasting feeling that it actually was the fact that I was doing it. Since I've come to that realization I've learnt to be more present when I'm in the undertaking and not focused too much on getting to the finish. Because if you have a truly successful and positive experience, the finish is a bit sad because it's over.
Do you remember the first thing you said when you arrived here after doing those more than 180 km?
Oh, yes, the term is like yoyoing, like they say in the States… I was thinking as when I was around: "it's 360º, and if you did it both ways it would be 360 km", and you would do in both directions and you would have a real true understanding of the trail, and it would be nice because it would be like around 24 hours, I think. It's just a lot of nice factors that make it a nice thing to do. To be honest I was having such a good time having that in my head and I thought: "I could just do it now!".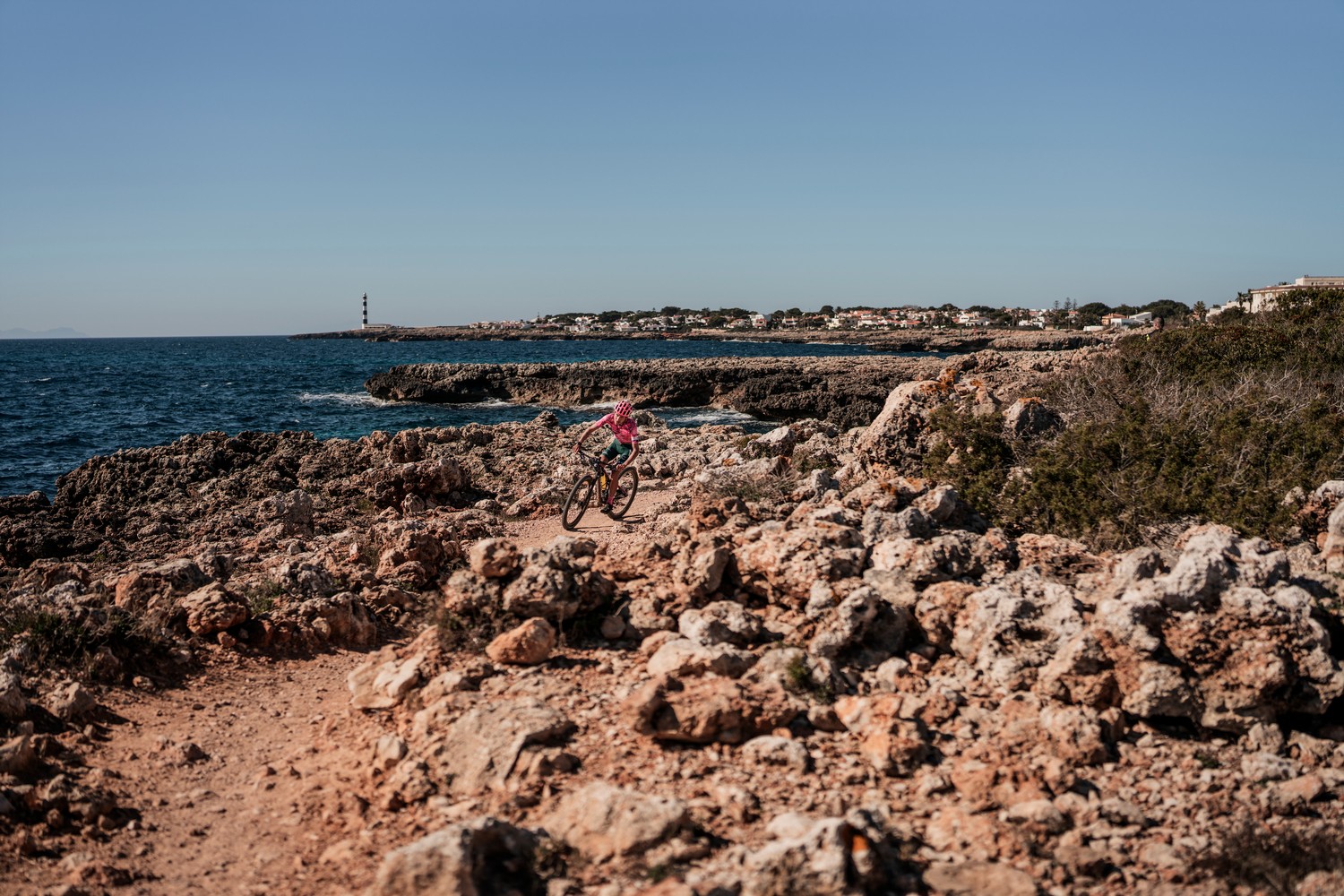 If you had to choose one single thing that you would keep from yesterday, which one would it be?
I had a lot of really nice moments yesterday. I think that basically from the first beach section, when we entered the trail properly from here maybe 5-6 kilometers away until almost the edge of down here, I think I was in full flow state. And there weren't many periods where I broke out of that. That's an amazing thing to have. I was totally in the moment, thinking purely in what I was doing for almost ten hours, which I don't know if I ever had that in my life before. It is hard to replicate. So I would definitely take that. It was a privilege to have that experience.
Ten hours in a flow state? Usually it's difficult to be in a flow state even for a few minutes!
That's why I don't like to stop. It's not a time thing, it's not like "I can save 30 seconds", it's more like "I don't want to get distracted from being in the zone of what I'm doing". Especially when you get further on. It's easy that something that someone says gets into your head, and it can totally flip your mood. And it's something that is not in your control, but it gets into your head… That's why I go about it the way I do. I like to come in, get what I need, I don't really chat or talk, I don't want to know anything and just get back into my world. And that was especially true yesterday because I was in such a nice zone that I just needed to stay in it.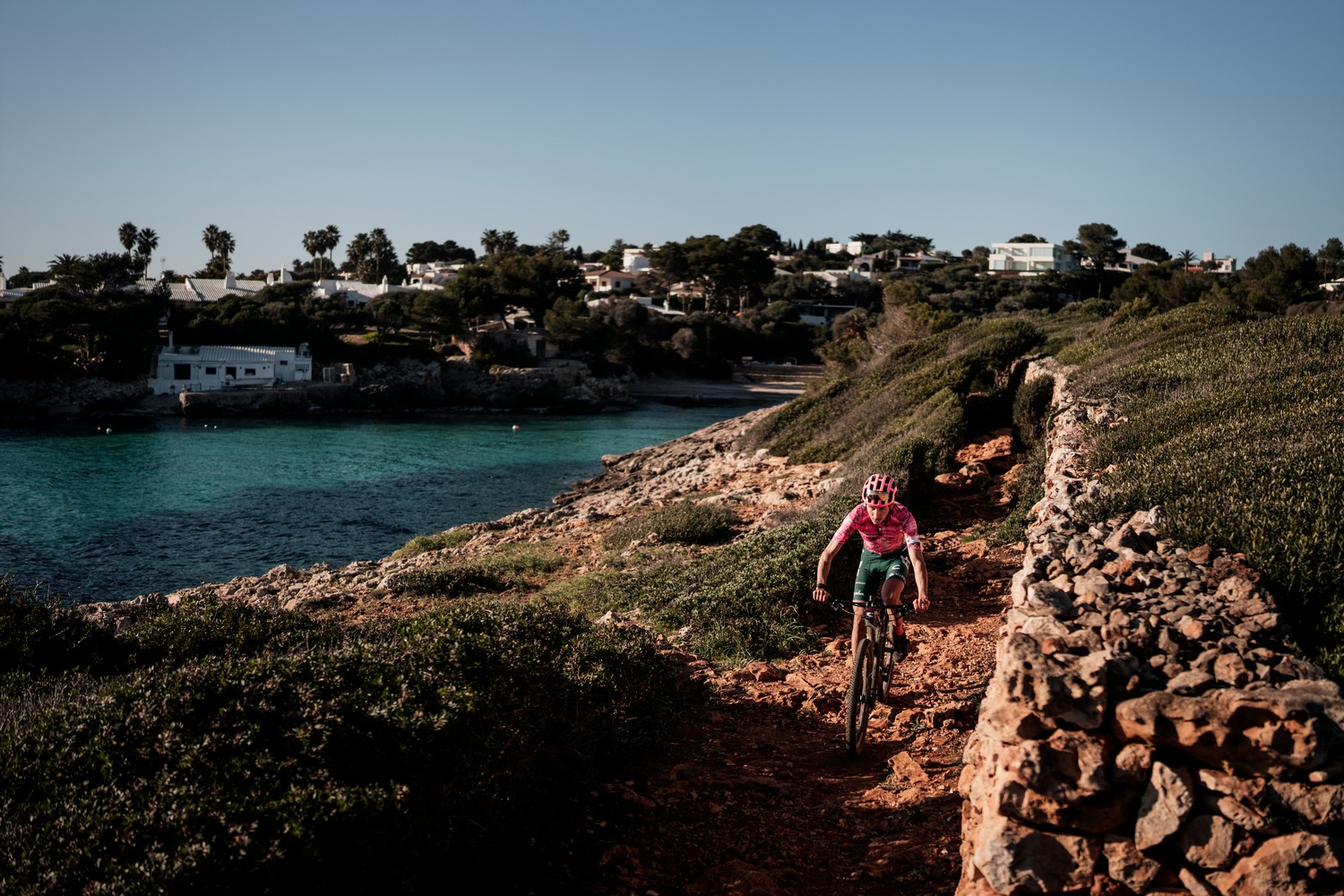 Thinking of those who are planning to come and do it in a few stages, which is the way you would recommend them to do it?
I think that you should take whatever you normally consider your daily limit and then do half it each day. Because the terrain is slow-going. The amount of effort I was putting in yesterday to average I think 18 km/h… If I was to put that effort and put it into Leadville (in Colorado), for example, you would average like 27 km/h probably. It's a very difficult trail but very rewarding, so I think it's a mistake to overestimate your ability and feel pressure to complete a distance that's maybe beyond you, and then miss the surroundings. Because it's definitely worth having time to stop and look around, giving yourself a good time. I do the same. When I'm touring for fun, I used to think "I'll just do 180 km, that'll be great", but now I think like "120 km is good". When I'm really trying to enjoy myself it's enough that it's an adequate challenge but it's not too much that you can't enjoy yourself. So I'll say: give yourself extra time, for sure.