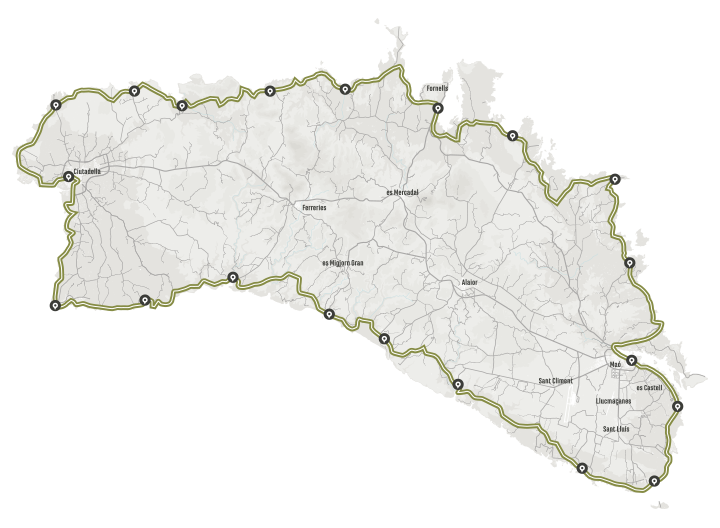 Camí de Cavalls 360º is the tour around Menorca in stages through GR 223 footpath. You have three possible ways to experience it: Hiking, Trail Running or MTB.
OVERVIEW
Camí de Cavalls is 185 kilometres long. 185 km of tracks and paths that surround the confines of the island of Menorca which occasionally go deep into the island to show us wetland and farming zones, and deep and hidden gullies. 
Beyond the attractiveness for hikers and cyclist, the main value of Camí de Cavalls is the wealth and the beauty of the landscapes for which it goes by.
The altimetry of Camí de Cavalls is low: the highest spot is about 135 meters above sea level. The low altitude makes it an affordable path for everybody who enjoys contact with nature and wants to hike in the path calmly.
Yet, Camí de Cavalls covers a coastline occasionally very steep, ploughed by gullies, small canals and valleys, so those wanting a challenge will have to deal with real leg-breaking stretches. In addition, the high temperatures and lack of shade in some sections add an extra difficulty in the summer months.
In any case, Camí de Cavalls is appealing for the practice of hiking, trekking, running and MTB. Almost everything corresponds to narrow paths, often technical, with constant slopes. Some stretches are flat and affordable, while others are rugged and abrupt. The technical difficulty is especially high for bikers, but this also represents great stimulus for lovers of pure mountain biking, with many kilometers of single track.
360º BTT
The 360° MTB route provides an exciting track that is both physically and technically demanding, with short but intense uphill and downhill sections. The rugged terrain of the coastline of Menorca makes the track very attractive and also quite challenging. Fun is guaranteed!
The route is specially designed for MTB. It is based on the GR-223 Camí de Cavalls, but avoids the uncyclable or uninteresting sections. In any case, it is not suitable using a bike which is not for mountain-terrain or not in an optimal state of maintenance or to use sattlebags with the bike.
Technical data:
Distance: de 183 a 190 km.
Accumulated climb: de 2.500 a 2.700 m.
360º HIKING AND TRAIL RUNNING
The 360º Hiking and 360º Trail Running routes run along the GR 223 – Camí de Cavalls in their entirety. Still, 360° offers alternatives, variations and detours to make the best of a route with a unique attractiveness.
Technical data:
Distance: 185 km.
Accumulated climb: 2.680 m.