The Catalan biker rode the Camí de Cavalls 360º Non-Stop in the Fastest Known Time (FKT) time on 19th of April. Today she tells us about the challenge on her first MTB experience in Menorca.
Sandra Jordà Pascó is a well-known rider. Now riding for Orbea Factory Team, her list of wins includes the Ultra-Marathon European Championship 2017 and the Spanish Enduro Championships 2017 and 2018. For all that, she had never ridden our trails before when we dared her to try the Camí de Cavalls 360º Non-Stop.
Her interest piqued by many warnings of the difficulty of 185 kilometers of trail with 3.300 metres of elevation gain, she gladly accepted. We further warned her it was a stimulating trail full of climbs and gates and rocks and descents. Setting off at the crack of dawn on April 19, and arriving 15 hours 1 minute and 46 seconds later, Sandra established the women´s Fastest Known Time (FKT) for the course, knocking 36 minutes off the only other women to complete the challenge so far, Ada Xinxó.
As soon as her feet hit the ground after completing the Non-Stop, Sandra Jordà was asking to enter the Epic Camí de Cavalls 360º race held in November. A few hours later, once she'd caught her breath, we sat down to hear about what she got up to on the track.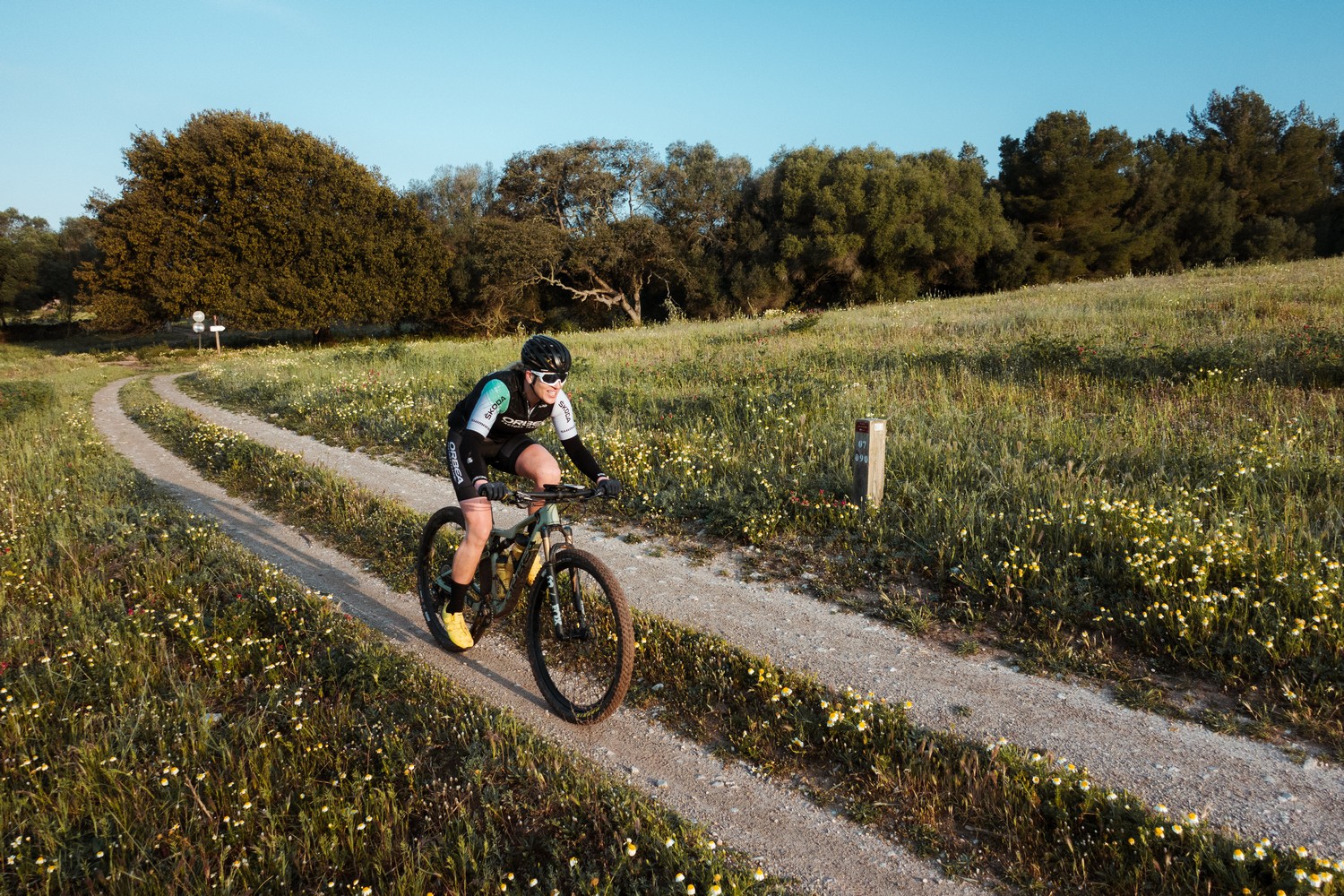 "No matter what they might have told you, if you haven't actually ridden here…"
So how was completing a full circle of the island, bearing in mind you'd never ridden in Menorca before?
When I was first invited to tackle this trail I thought to myself "185 kilometers and 3.200 metres of elevation gain… is doable". The more I found out about it, reading the comments about the gates and rocks… the more excited I got. Once you're here, no matter what they've told you, if you haven't already ridden the trail then you must.
So why? What do you find out on the ground that you couldn't infer from a map?
The terrain is so complicated that you can never settle into a rhythm. If you aren't stopping to open a gate, you're hopping around razor-sharp stones. You haven't caught your breath and suddenly there's a gnarly rock section.  Based on the map you can't appreciate the roughness of the terrain nor the variation in height, you'd think Menorca was flat! – In fact, if I  ever hear someone say that I'll kill him! Up, down, up, down… and yet the highest altitude on my track was 127m, so try climbing 3200 m in stints of 127 m.
A lot of short climbs then…
Hell yes, so many times you drop down into tiny coves only to have to climb straight back out of them up the other side.
"The start was the best point of the ride"
So how did the start go?
I was really looking forward to it and I think it was the most spectacular moment of all. All the trail markers are very well set out and have a reflector at the top. It was pitch black and, as my lights lit them up in turn in front of me, it felt as if a secret path was opening up among the stones. I think that was one of the best parts.
After a while, the sun rose revealing wonderful views of pristine, empty landscapes studded with cliffs. Riding into the sunrise was another breathtaking experience.
Do you think not having previous experience riding here was against you, or that you could have prepared yourself better in any way? 
On a competitive level, yes. It took a while to settle into the terrain, get used to finding the markers, orientate myself and get comfortable riding over all the stones. In terms of meeting the challenge, on the other hand, I think it made it more fun and interesting, I was discovering the whole thing as I went along. It was great!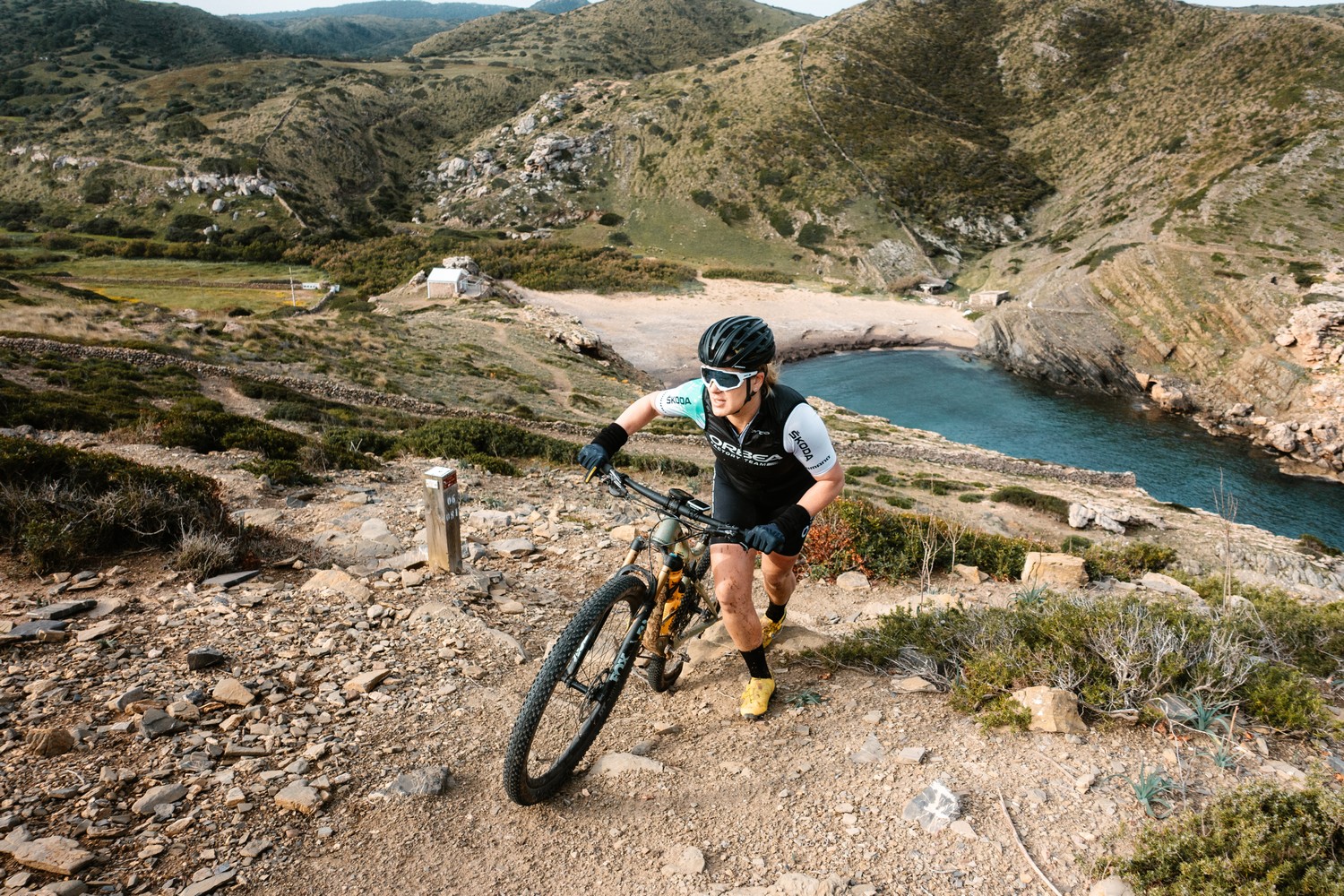 "I was riding at a comfortable rhythm, the challenge was against myself, after all"
On the trail, were you asking for Ada Xinxo's times, or did you keep a clear head and intended to ask about them later?
I didn't have her times on my GPS nor written down. I just rode at a rhythm that was comfortable for me, challenging myself. When you decide to do an event like this, of course you want to beat others' times — but first of all you have to get around the course. My plan was to complete it within the curfew hours [between 6:00 and 22:00 hrs]. Luckily, I was able to ask Ada's times when I stopped for breaks and these were a really good reference to have. They helped me a lot.
Let's talk about the first part of the trail — the north coast from Ciutadella onwards — how did you feel when you got to Maó?
I felt very strong and at ease with my rhythm throughout the whole ride. At one stage though, just before Maó, I felt weird and found it hard to eat. When I got to Maó supply station, I set a foot down and told myself sternly that I absolutely had to eat and drink. After that, I felt fine again.  I did also know  –everyone had told me – that once you get to Maó, the ground changes a lot and the kilometres start to fly by. That helps too.
"Menorca is a relatively small island and you don't expect so many contrasts"
How would you describe the ride in terms of the landscape, the trail, the sensations stemming from what you saw? 
Simply spectacular — because it changes the whole time. Menorca is a small island and you don't expect so many contrasts. What with the beautiful pre-dawn start, the unexpected salt flats, beaches you'd think were in the Caribbean, sheer cliff faces, there's just so much variety and even the fields and flowers change! You're never bored. It's a truly remarkable sight.
Regarding the physical demands, did you feel like you had plenty left for a big push to the finish, or did you feel like you were flagging towards the end and would have liked that little bit of extra juice to knock some more time off the clock?
I rode at a comfortable rhythm, though I did get a bit tired towards the end, on the last stoney section. There, I told myself I'd better just get it over with quickly or it would become endless. Overall, I'm very happy with how I managed the ride.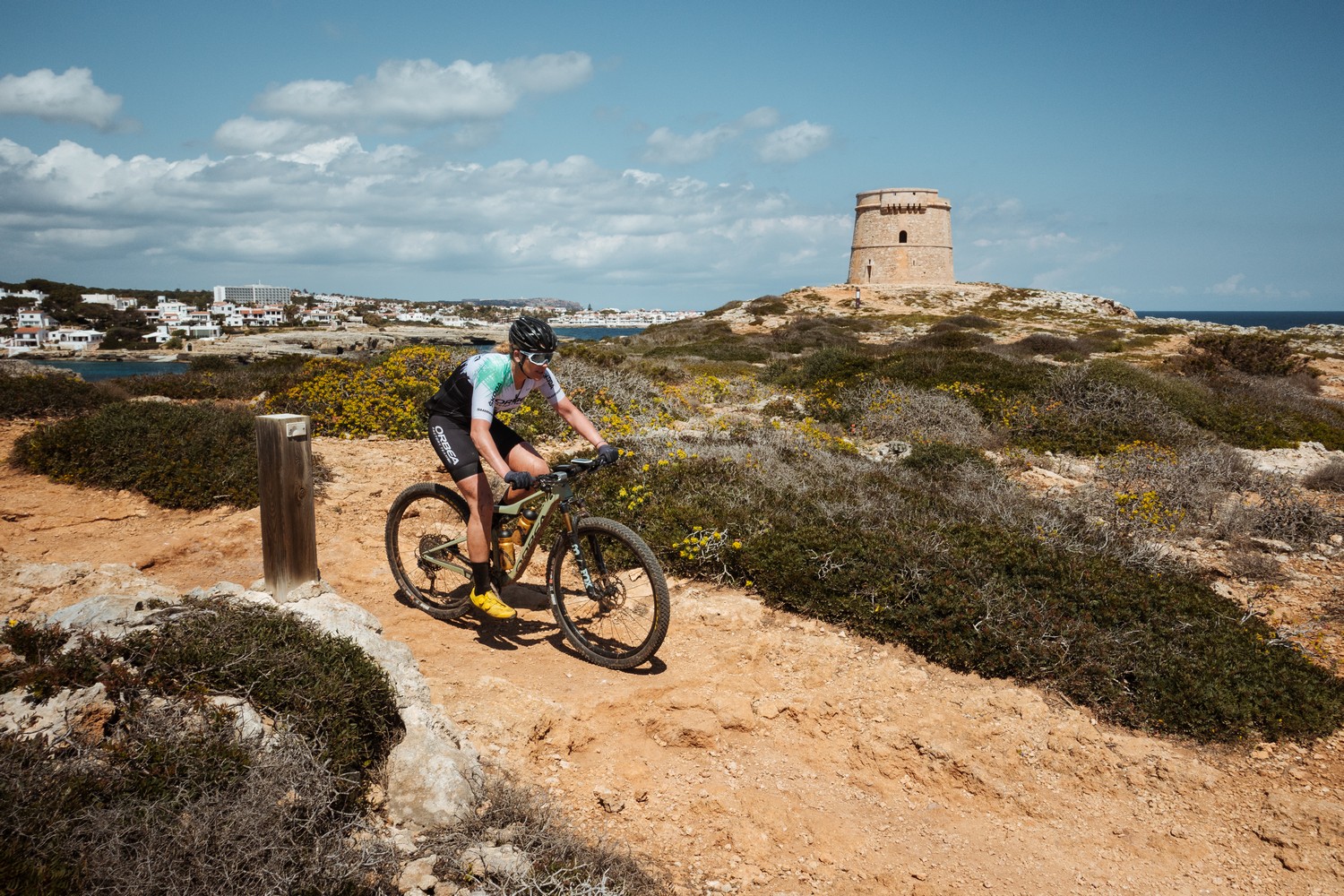 "I'd planned to start slower and build up towards the end"
You started behind Ada's time, then caught up and, from Cala Galdana onwards, bettered her time and finished having gained almost 40 mins on her…
I'd planned to start slower and build up towards the end. I think that if you aren't riding well throughout the day it can be a struggle to get to the finish. Therefore, whenever I ride long distances, I prefer to go steady and add the extra push at the end.
How did you feel when you crossed the finish line?
A lot of personal satisfaction for having made it. Everyone told me I could do it, but then it's down to you to do the work, and a lot can happen in fifteen hours on a bike in the wilderness.
"I was alone for many hours but the trail doesn't let you get bored"
How was your emotional experience during this adventure?
It's easy to keep your head busy, this trail doesn't let you get bored. To start with, you have to keep a constant eye out for the trail markers… Next, I'm used to riding as part of a race with other competitors all around me to keep me entertained. Not so here; I was alone for many hours, but the trail doesn't let you get bored: there's always either a gate, a rock, a cliff…
Mentally, I got this sentence in my head that Nairobi from La casa de papel [a Spanish Netflix series] uses: "Come on guys, don't let the rhythm stop, don't let the machines stop! Chiqui-pun!, Chiqui-pun!". That earworm kept ringing in my head every ten minutes, but it was fun. I enjoyed it. I had a great time.
What would you say to relatively experienced mountain bikers that want to do an adventure like this one, in terms of coming here and taking up the challenge? 
I'd encourage them to do it. First of all, because the island is incredible, it's worth a visit just for the views. You'll experience parts of Menorca that you wouldn't see on the average holiday trip. You get a really good overview of the island because you ride right around it and encounter all its contrasts.  As a personal or cyclist challenge, it's a stunning place to ride. It's also a challenge that you have to prepare and train for, but the satisfaction of completing it is well worth it.
"I'll be back in November for the Epic Camí de Cavalls 360º three day race"
Will you be coming back to Menorca?
I'll be back in November for the Epic Camí de Cavalls 360º three-day race. Before I started I asked them to enter me and as soon as I crossed the finish line I told them again. It's great! It's a privilege to ride here. I recommend it to everyone. It's true that you need to train to brave such a challenge, but it's three days of paradise.