David Llorens started working for 40 Nord Outdoor in the Camí de Cavalls 360º activity in 2013, second season of the project. He carries out tireless field work, at the wheel of the van to assist the participants and carry out the transfers, greet them upon arrival and say goodbye to them at the end. In addition, he has an unbeatable anecdote. We get to know him a little more in the following interview.
Born in Ciutadella 37 years ago, David Llorens has always lived in Menorca. He is a regular mountain biker and meeting Joan Febrer, promoter of Camí de Cavalls 360º, radically changed his career. At that time in the 2013 spring, the project was entering its second season and its growth required more hands.
How was that beginning?
Initially, it had to be for two or three months, which in the end it was four or five… and currently it occupies us for nine or ten months of the year.
What does your work at Camí de Cavalls 360º consist of?
Field work. When the participants arrive, I welcome them, I give them a briefing with the road book and map to be sure they know how to use them, because afterwards the route is self-guided. In addition, I also carry out transfers of participants at the beginning of the stage, transport luggage to the hotels, I pick up participants at the end of the stage when necessary and at the end I meet again with them –even if it is a short time– to get their feedback and see how everything went.
This is for like that most of the year. Another season, about four weeks, I also collaborate with the race, the Epic Camí de Cavalls 360º.
What do you like the most about the job?
Many things, actually. You see different people the whole day, you move a lot, often on rural roads. And it is also related to mountain biking, which is what I like the most.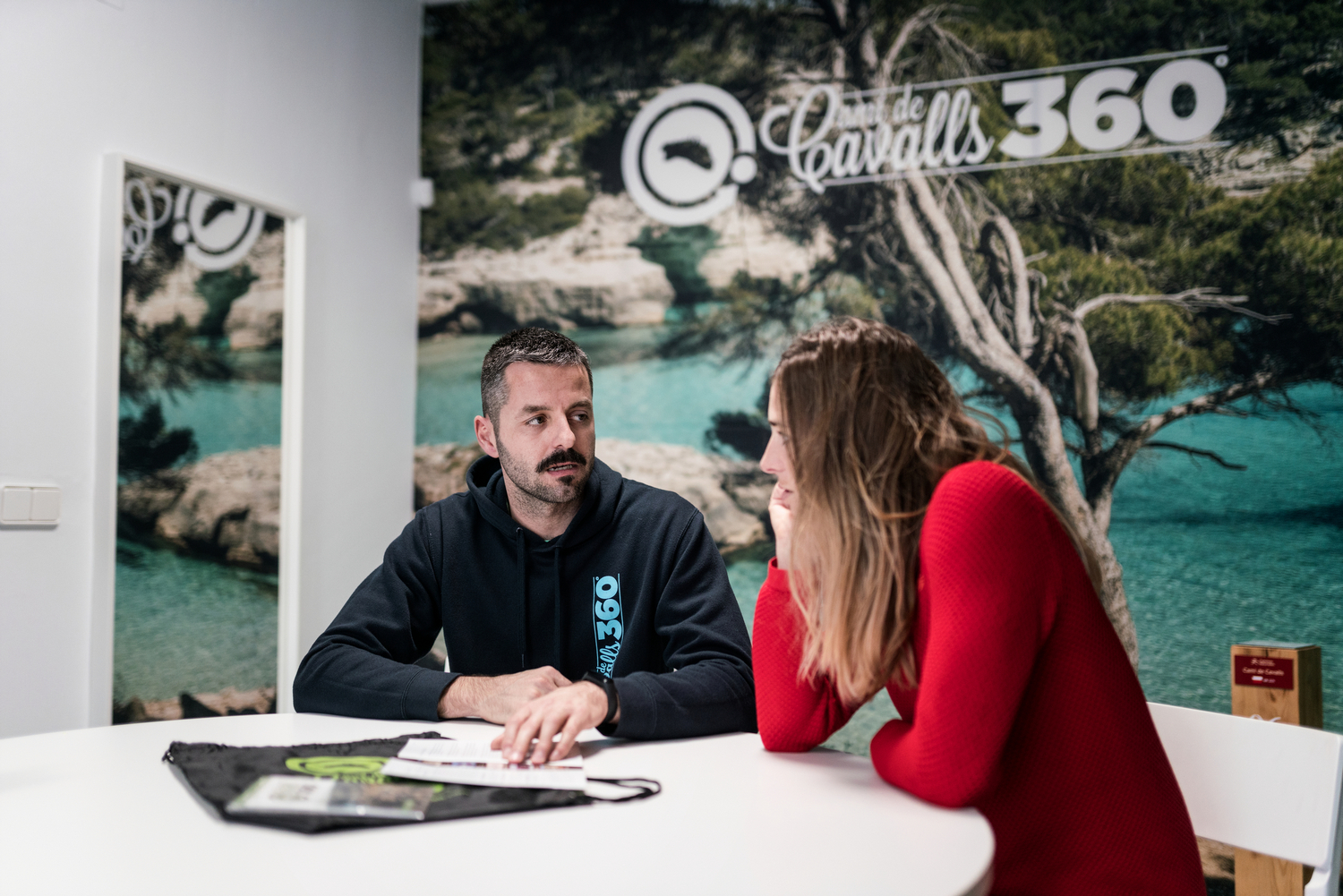 And the least?
I would say the schedules of part of the season, when there is a lot of work, and they are from Monday to Sunday and constantly changing. There are five or six weeks in spring and maybe another four or five in autumn that you might leave home at six in the morning, you have only half an hour to have lunch and you don't come back until nine or ten at night… You also have to drive a lot, but I like that and it tends to be quite calm.
How is the relationship with participants?
Very good in 99% of the cases. Only those who have previously created very high expectations or are not used to regular physical activity and find it very hard, they may blame you.
What do you think the participants like the most about the experience?
Many of them agree on the beauty of the Camí de Cavalls, which was not expected. On the other hand, they also notice the close-knit our team is; I believe that we transmit to them the friendship that we have between us and they receive a personal and humane manner, they feel that they are not a number for us.
Explain any anecdote that you have lived throughout these years…
I have several ones, but I will explain one that happened to me just the second day of work. I had to take two girls from their hotel to the Cala del Pilar parking lot to start the stage. Once I had left them, there were three secret policemen right there, who asked me a few questions, keeping their distance… They let me go, but going back along a rural road, the Civil Guard cut me off and asked me to identify myself again and asked me a few questions more.
I started to guess that something big must have happened, but when I went out onto the main road, I found an impressive control: four or five Civil Guard cars, another three from the National Police and even the Local Police… There they made me stop. A civil guard agent, who had his hand on one side –on the gun or what do I know– told me, from about twenty meters: "Identify yourself, get away from the car…" There was a man there, half hidden, who was asked if he recognized me… And they searched the van from top to bottom; they almost scrapped it!
A local policeman whom I had seen and who had also seen me running duathlons and such, approached me and explained that they had seen a light aircraft throwing some bales and a young man in a gray Kangoo was picking them up… And precisely! I was alone and I was driving a gray Kangoo that was not mine! I was just thinking about how I would explain to Joan that it had taken me an hour and a half for that fifteen-minute transfer and that I was returning the van half-scrapped.