Going around Menorca in stages through the historic Camí de Cavalls is an ideal route at any time of the year. You can do Camí de Cavalls 360º in three modalities (hiking, mountain biking, trail running) and with a series of options to customize it and adapt it to your level, availability and preferences. Don't think twice! Book and come now!
Camí de Cavalls 360º is an activity that consists of going around Menorca in stages following self-guided the Camí de Cavalls (GR 223). It is open to all types of (small) groups and even to single people, and has the logistical support of the organization, which offers the possibility of customizing your tour and adapting it to the level, availability and preferences of each one. We provide you with everything you need to follow the route, as well as accommodation at the start and end points of the stages or transfers between those points and the hotel.
3 modalities: hiking, MTB, trail running
To begin with, it is possible to do Camí de Cavalls 360º in three modalities. It is a route that can be done on foot (hiking), biking (MTB) or running (trail running). You just have to choose which adventure you like the most and prepare to enjoy it thoroughly.
Hiking allows you to discover the enormous diversity of landscapes that Menorca offers in a calmer way. The pace of the hikers is ideal for having the necessary break to fully experience the essence of Menorca and its many shapes, colors and aromas. You will be able to fill your backpack with indelible memories and unique pictures.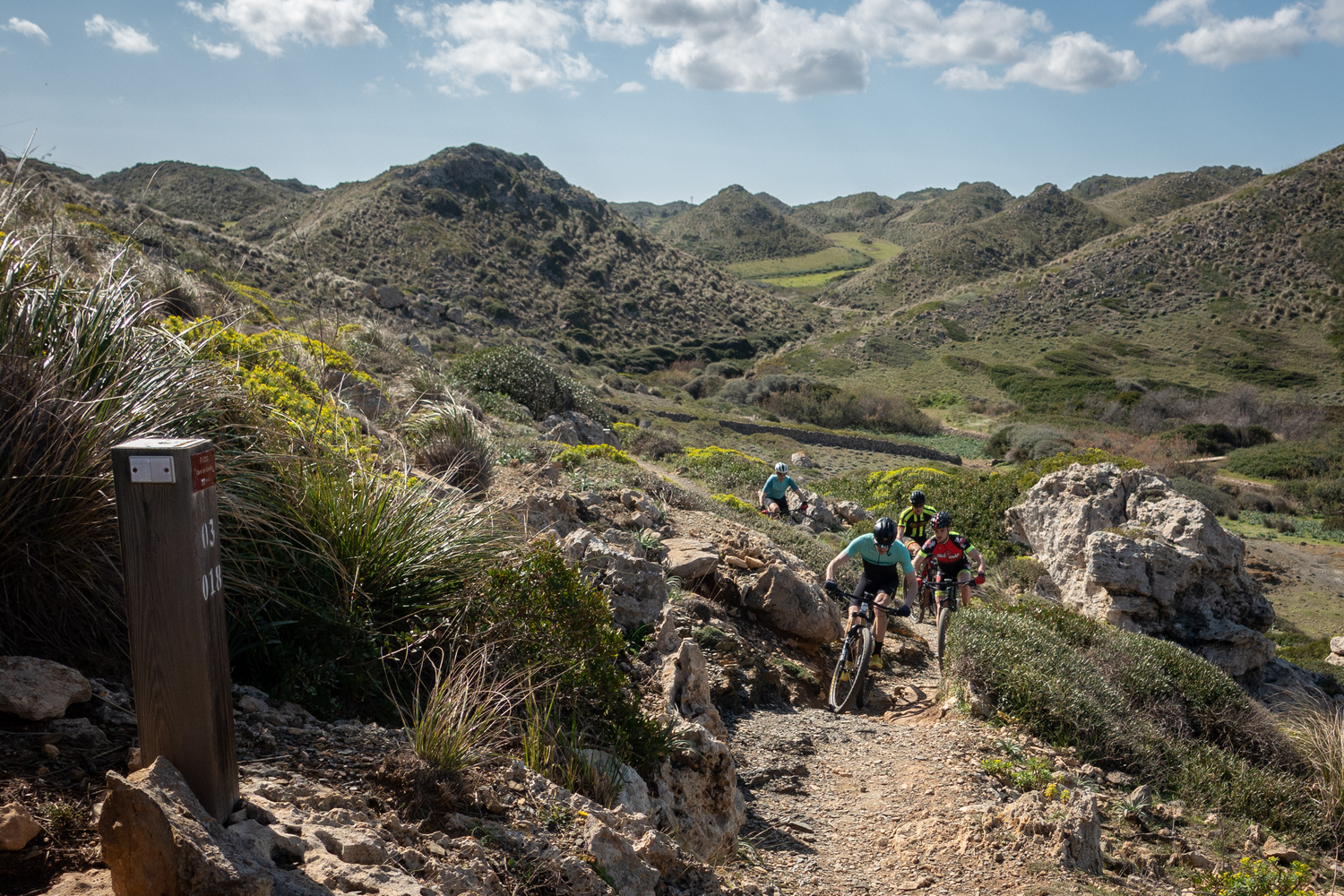 Photo: Camí de Cavalls 360º.The Camí de Cavalls 360º MTB route is a frenetic track and a notable challenge. The Camí de Cavalls features a rough and highly technical terrain, with constant short but intense ups and downs that test the ability and physical level of the athletes, as well as their mental strength. Anyway, you will have the possibility of adapting the route to your level, with three options: Standard route, of intermediate difficulty, which avoids 30% of the most difficult sections of Camí de Cavalls; Plus, of maximum difficulty, absolutely faithful to the Camí de Cavalls and only recommended for very expert cyclists in search of new challenges on two wheels; Basic, of less difficulty, which runs approximately 50% along alternative paths to the Camí de Cavalls.
Trail running offers the possibility of facing a demanding route, which runs mostly along rough paths where runners must always pay attention to where they take the next step. Continuous, short but intense ups and downs, uneven terrain and wonderful surroundings complete the menu.
You can choose the number of stages
Camí de Cavalls 360º allows you to divide the 185 kilometers of the itinerary into the number of stages that best suits your availability and level. If you have opted for the hiking modality, we have designed the route in 6, 7, 8, 10 or 13 stages. In any of the options, you will have accommodation near the start and end of each stage, or the organization team will pick you up and take you to this point if it is a more isolated area.
Mountain bike lovers will be able to do the same between three and six stages, regardless of whether they have chosen the Basic, Standard or Plus route. Finally, the participants in the trail running modality have at their disposal a plan to complete the route between four and eight stages.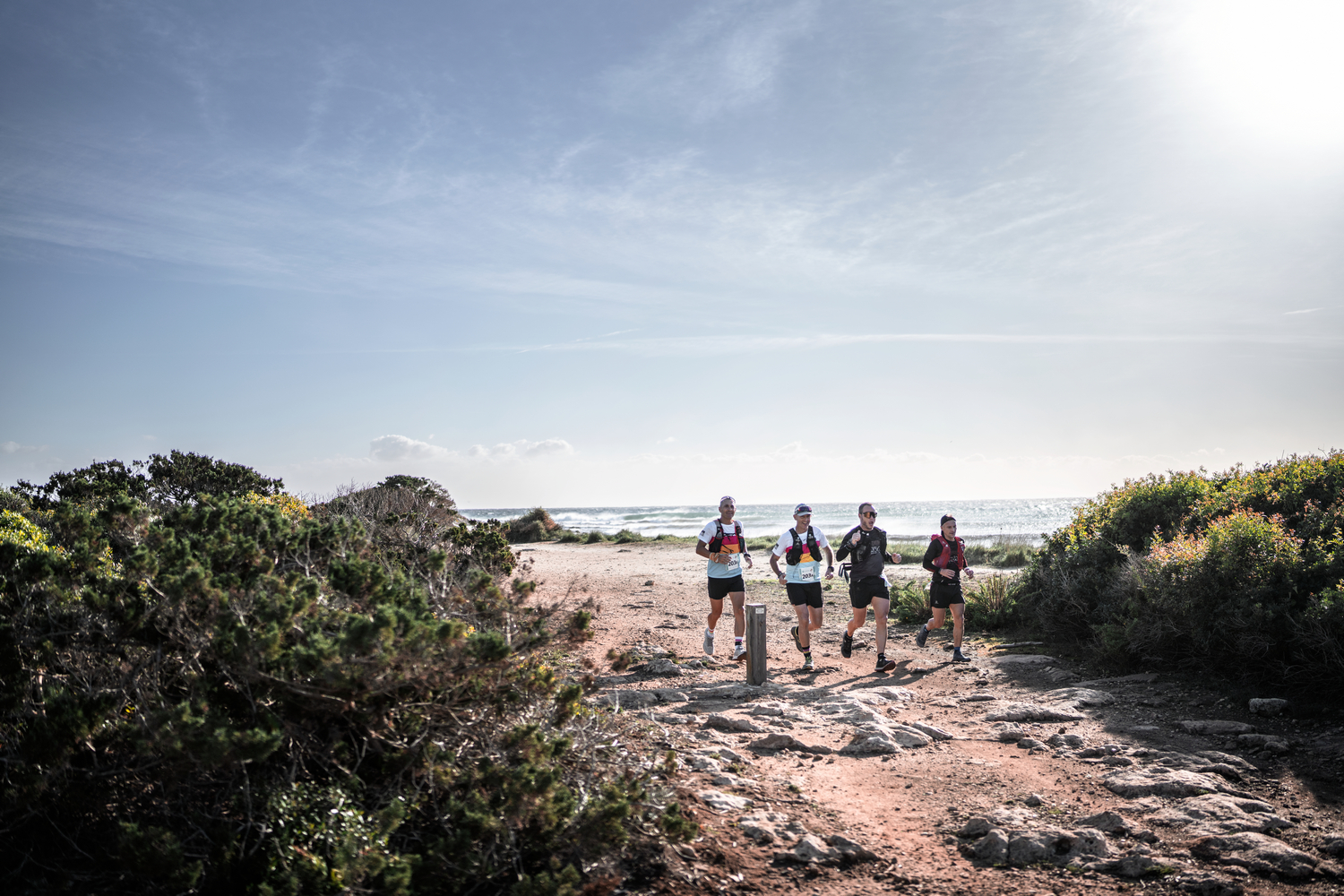 All round or half?
As we know, sometimes, your availability of time and your level do not adjust to be able to do the entire Camí de Cavalls 360º tour. So we offer participants a very interesting intermediate option. You can divide the route in two and opt for the 180º N of the north coast or the 180º S of the south coast, always taking Maó and Ciutadella as references and start and end points.
In this way, many groups choose to do the 180º N version first and leave the 180º S version for later… or vice versa. In the end, it is the same dose of landscapes and Menorcan essence with less accumulated fatigue.
What are the best dates?
Another detail to take into account when coming to do Camí de Cavalls 360º is the calendar. In this case, we have very good news: we are open all year! Menorca is a Mediterranean island with a mild climate and a magnificent setting to come and practice outdoor activities at any time.
In fact, the best time to do the activity is between the months of October and April, when the temperature is ideal and the landscapes glow with bright greens in the grass and trees and solid blues in the sky. In addition, Menorca is less crowded and you will have the feeling of being able to enjoy the island for yourselves.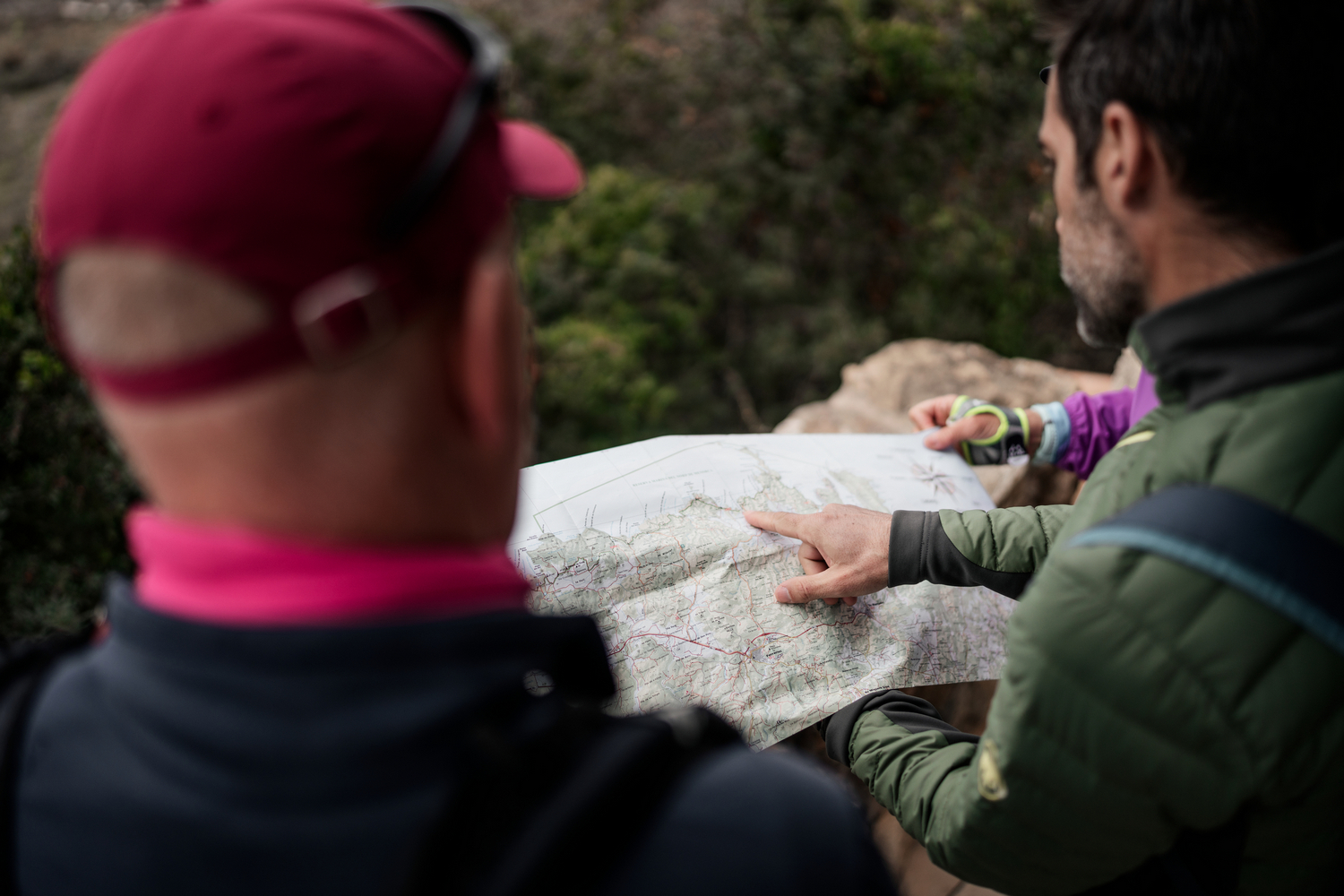 We are your team
The Camí de Cavalls 360º team will meet you before the start of the tour and will explain in detail the particularities of the route. In addition, we will provide you with a map, the trail book and the GPS tracks of the route, so that you will not have any problem following it. We will be attentive to any incident and we will act to assist you in case of need.
We plan your overnight stay during the days you do Camí de Cavalls 360º, so that you don't have to think about anything else than hiking, running or biking. We book accommodation for you in the most efficient way and we take care of transfers and luggage transport when you change hotels. In your backpack you will only have to carry what you think is necessary to enjoy each stage.
And when you finish the route, you will get a special gift consisting of a t-shirt or jersey to celebrate that you have completed your challenge!
Book now!
It's so easy. You just have to go to our website and fill out the form that you will find. You tell us which variant of the route you choose, what day you want to start it, how many people you are and how you get to Menorca. The rest, you leave it in our hands.