This section of the southern profile of Menorca includes important tourist settlements as well as unspoiled stretches and paradisiacal beaches with white sand and turquoise waters. Son Saura, Es Talaier, Cala en Turqueta or Macarella are some emblematic names that can be found in these kilometers.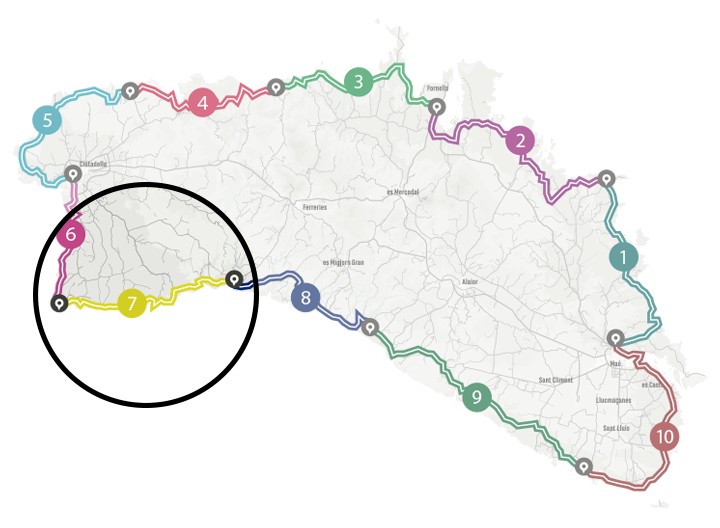 Camí de Cavalls 360º offers a good number of modalities, formulas and formats for participants to enjoy the route with a path adapted to their pace, level and time availability. The Hiking and Trekking 10 stages program is one of the best suited to hikers with some experience and looking for medium difficulty routes.
The 185 kilometers of distance and 2,741 meters of elevation gain are divided into ten feasible days of about twenty kilometers on average. Participants should only think about enjoying the landscapes and spots through their path. The organization team will take care of the rest: advice on the route and possible variants, logistical issues and even transfers to accommodation when it is not possible to reach them walking.
STAGE #02: FAVÀRITX – SES SALINES DE FORNELLS
STAGE #03: SES SALINES DE FORNELLS – CAMÍ DES ALOCS
STAGE #04: CAMÍ DES ALOCS – CALA MORELL
STAGE #05: CALA MORELL – CIUTADELLA
STAGE #06: CIUTADELLA – CAP D'ARTRUTX
STAGE #07: CAP D'ARTUTX – CALA GALDANA
STAGE #08: CALA GALDANA – SON BOU
STAGE #09: SON BOU – BINIBÈQUER VELL
STAGE #10: BINIBÈQUER VELL – MAÓ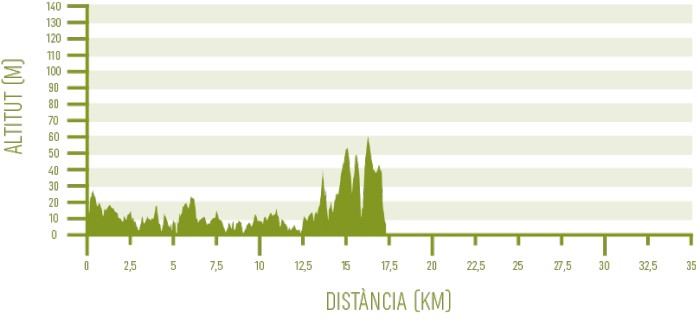 Distance: 17,37 km / Elevation gain: 161 m
From Cala en Bosc to Cala Parejals
The first 2.5 kilometers of this stage pass through the residential areas of Cala en Bosc and Son Xoriguer, with the figure of the Farola d'Artrutx on your back. Cala en Bosc is one of the examples of a tourist center, located next to a quiet beach. It has a marina with an entrance channel and a wide range of leisure and dining options.
Son Xoriguer, on its side, features a residential area based on villas and apartments rather than large buildings. Its beach, which combines sand with rocks, marks the end of the urbanized area of western Menorca and the beginning of a long natural stretch through some of the most spectacular and emblematic landscapes on the island.
The route hardly shows any elevation gain, and runs through low-lying rocky areas, with occasional depressions forming coves. The path goes by the sea to cross Cala Parejals, a sea inlet that rarely forms a beach on the surface. A small white house at the end of the cove indicates the location of the Cova des Pardals, a cave that is accessed through a staircase and that communicates with the house through a trapdoor. It is a good place to take refuge from the extreme heat in this shadeless area.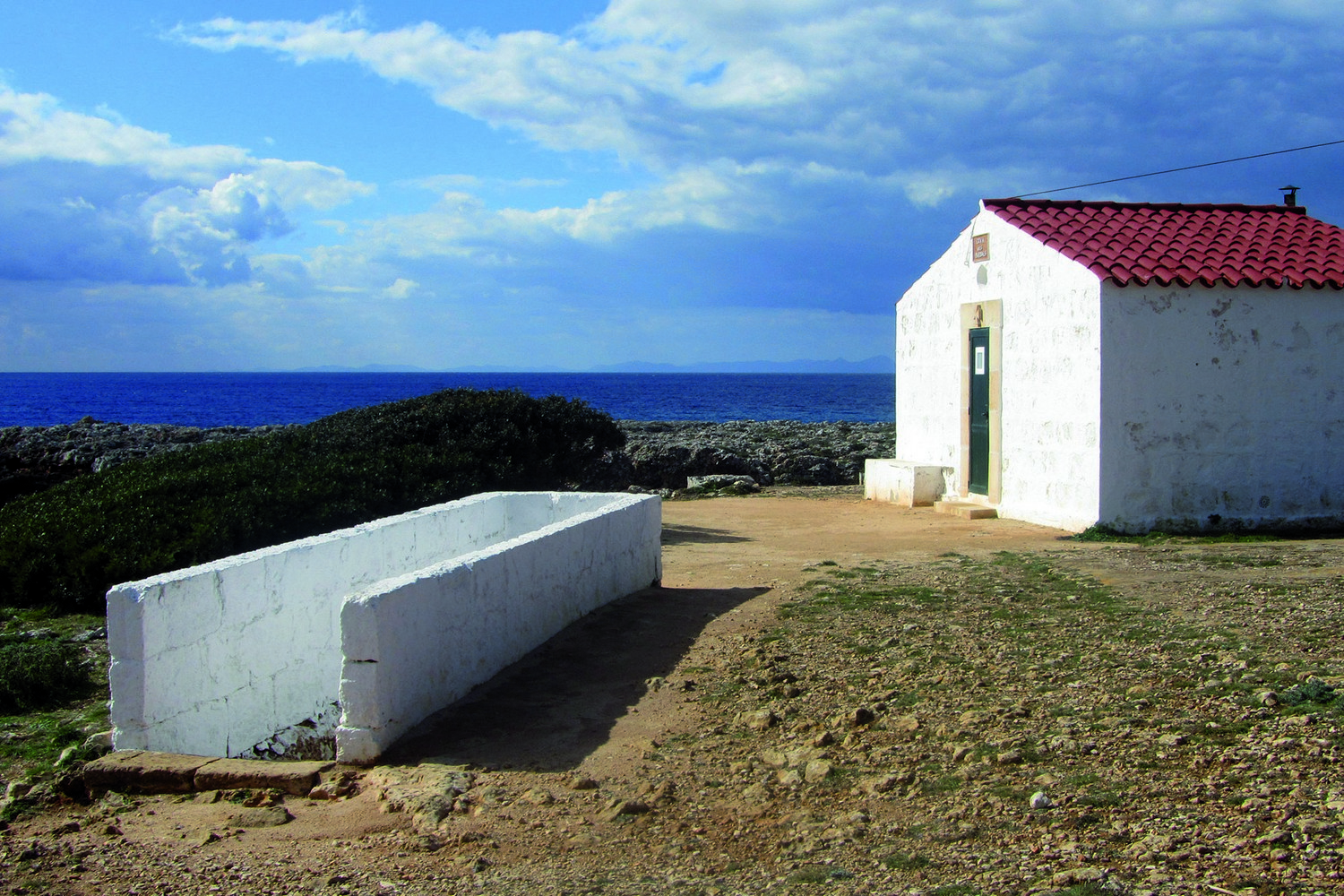 From Cala de Son Vell to Platges de Son Saura
The next cove to take into account is the small Cala de Son Vell and, a little further on, Es Calons. There, you can discover one of the bunkers built by the Republican forces during the Spanish Civil War. At that time there was an important network of this type of construction along the coast of the island, which was not controlled by the Francoist army until February 1939, almost at the end of the conflict.
Next, Camí de Cavalls 360º goes into the Platges de Son Saura beaches, which make up a landscape that would rival any photograph in a Caribbean tourist catalogue. The first one of the two beaches separated by a small rocky point is Platja des Banyul, and its pine forest extends to the strip of white sand.
The second beach of Son Saura is known as Bellavista and stands out for its dune system and for the area of ​​semi-permanent coastal wetlands of its back.
Each path's bend in this area offers a better perspective of Son Saura landscape, until it is finally left behind when bordering the Punta des Governador. The path leaves no room for nostalgia for past views, as new ones just as beautiful immediately take their place.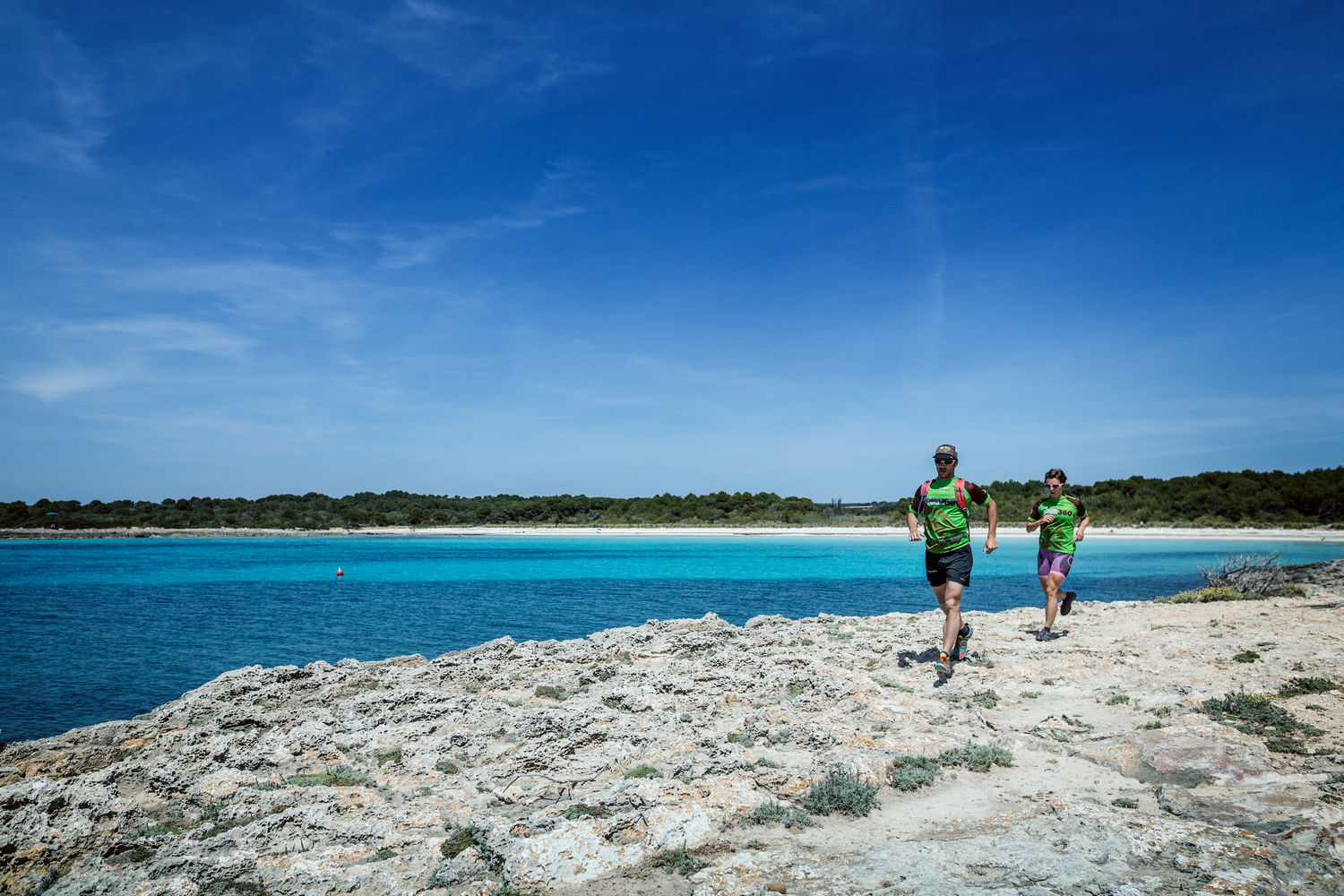 From Platges de Son Saura to Cala en Turqueta
It comes the turn of Cala des Talaier and its crystal clear waters. It is the prelude to a stretch of cliffs where wild olive forests reach almost to the seafront and the views to the east offer excellent viewpoints.
Inland, it is possible to see the remains of the Talaia d'Artrutx, a circular-shaped defensive tower built in 1617 on a 63-meter-high hill and surrounded by other more recent constructions. Under his watchful eye is Cala en Turqueta, which takes its name from the historical raids carried out by Turkish pirates.
The path does not step on the sand of Cala en Turqueta, but crosses it at its bottom part, where you can see an old waterwheel used to extract water from a well. Likewise, the first examples of oak forests are exhibited. They are present in all the ravines that flow into the south coast and completely modify the landscape and the dry vegetation of this environment. They concentrate higher humidity and are sheltered from the wind, which is why they also represent a relief on the hottest or excessively windy days.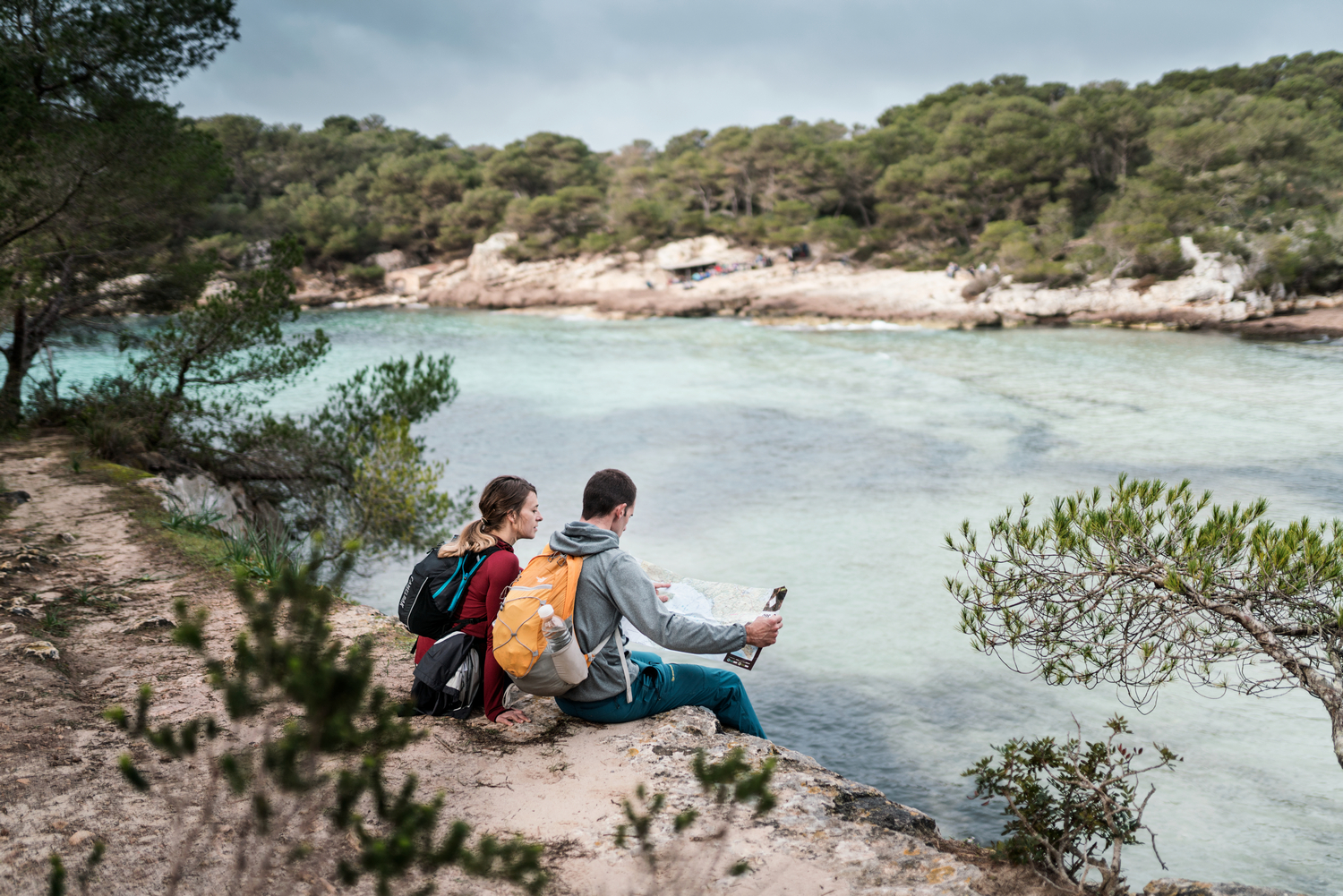 From Cala en Turqueta to Cala Galdana
The next part takes some distance from the coast and crosses sections of scrubland, with pines, olive trees, junipers and arbutus, before reaching the double cove formed by Macarella and Macarelleta. It is probably the number one unspoiled cove in popularity in Menorca. This is justified by its configuration nestled between cliffs of pine trees, its white sands and its pure and crystal clear turquoise waters. The boats that anchor there, mainly in summer, seem to float suspended in the air.
With this memory in the retina, the path goes again into a forest that hosts the remains of Es Bèrecs, old English barracks from the 18th century. It leads to Cala Galdana, an important tourist center where the stage ends.